Area Events Calendar
CHECK HERE for the most comprehensive list of events going on in and around the Ashland, Oregon area. A wonderful variety of experiences awaits you!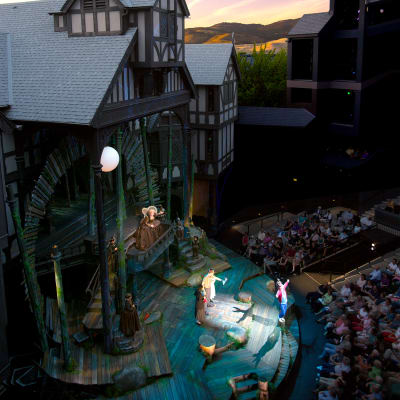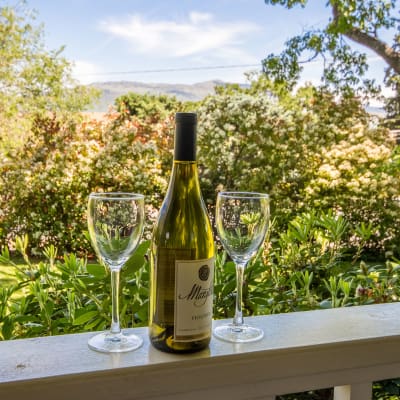 Wine
Southern Oregon is wine country
Relax at a local winery or make a day of it and explore wineries around the Rogue Valley and Applegate Valley. Find maps of many area wineries here.
Southern Oregon unique growing conditions and season produce an amazing variety of wines like no other region in the country. It's no wonder that Forbes recently designated the Rogue and Applegate Valleys as one of the "Top 12 Underrated Wine Regions To Visit In 2017" in the world.
"Much of the state has a dry and sunny clime, including down south where the diverse vineyards of the Rogue and Applegate Valleys lie. And wine diversity defines the Valleys—the range of micro-climates allows for everything from Riesling to Cabernet to ripen."
Wine Enthusiast included Ashland as one of the "Top 10 Global Wine Destinations".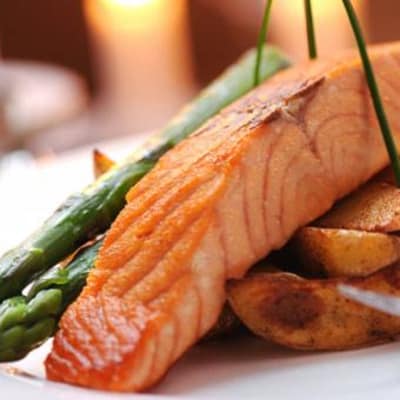 Dining
Exciting dining choices in Ashland
From craft breweries to gourmet cuisine, sandwiches to farm-to-table fare, the Ashland culinary scene has it all.
Check out the Chamber of Commerce restaurant member directory here.
Menus and Recommendations
While here at Oak Hill B&B, browse our binder of menus from area restaurants and find recommendations for different cuisines and moods. We're happy to help you select the perfect choice and assist with reservations.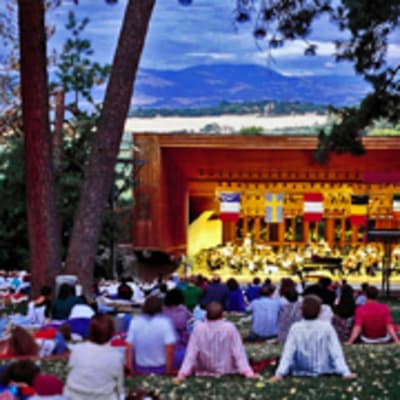 Music
The music is playing in the Rogue Valley, and there's something for everyone.
Britt Music & Arts Festival
The Britt Music & Arts Festival runs June 17 - September 17 with a wide variety of perfomances from classical to rock in a wonderful outdoor venue. Take a look at the exciting performances they have scheduled: http://www.brittfest.org/performances
Check our SPECIAL OFFERS page and make Oak Hill your home base for the festival, or complement your OSF experience with a show at the Britt Festival.
OSF Green Show
The Oregon Shakespeare Festival offers free summer and fall entertainment on the bricks! The Green Show is offered six nights a week (Tuesday through Sunday) at 6:45 p.m. from June through October. Jam with locals, internationals and friends from all over the United States. See who's performing at the free Green Show.
Wineries and Other Small Venues
Many local wineries, breweries and other small venues offer live music throughout the year. Check our event calendar to see a sampling of where the music is playing while you're here.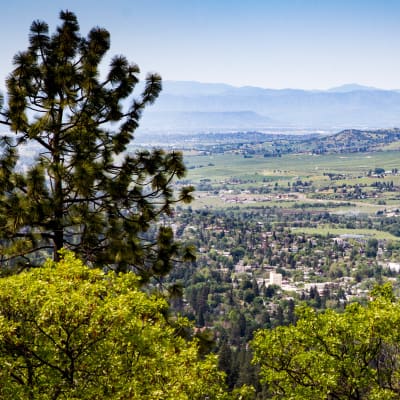 Outdoors
Lithia Park
Lithia Park park is a 100-acre jewel following Ashland Creek through undeveloped woodlands interspersed with amenities throughout. You'll find emerald lawns, playgrounds, picnic areas, a Japanese garden, duck ponds, a formal rose garden, groves of sycamore trees and a number of secluded spots.
Pick up a copy of the Lithia Park Trail Guide and take a self-guided tour to discover the plants and trees of Lithia Park..
Hike Area Trails
There are a vast number of area trails waiting to be hiked. Whether you want a simple walk or a challenging full day hike, there are plenty of options. Click here for a list of trails and map from our friends at Northwest Nature Shop (copies of the map are available at Oak Hill B&B and Northwest Nature Shop).
The City of Ashland Parks & Rec Department also has a great interactive web app for locating parks and trails.
The Ashland Map Guide is another great resource. We have copies available for you.
Mount Ashland Skiing and Snowboarding
Ski beautiful Mount Ashland in the winter months. The ski area has a full rental shop and great skiing and snowboarding lessons. Amazingly priced lift tickets! And getting there is easy: the FREE SNOW BUS picks up just minutes from Oak Hill.
Don't miss our great ski specials with rates 40-50% off peak season!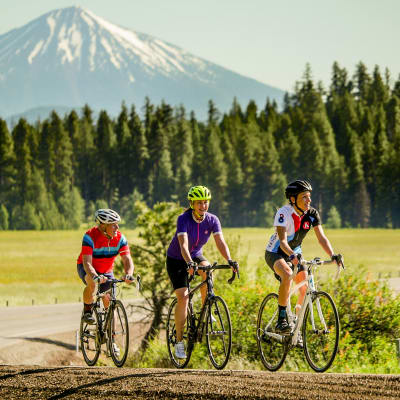 Cycling
Ashland is a very pedestrian and bike-friendly town. There are many in-town options for riding to and from area attractions as well as numerous trails from mild to wild.
Bike Rentals
There is a Rogue Bike Share station right next to Oak Hill B&B with simple pay-as-you-go options thru the Zagster phone app. There are multiple bike share locations around town where you can start or end a bike share with this program. Need a helmet? We can lend you one.
Or effortlessly explore town on an electric-assisted bicycle (e-bike) from Ashland Electric Bikes. Visit their website for details and to make a rental reservation. "More and more people are discovering the value that a day on an electric bike adds to their vacation experience. Lithia Park, The Bear Creek Greenway, and numerous local wineries make for great destinations on a sunny day here in southern Oregon. With an electric assisted bike you can tackle a 10, 20, or 30 mile day of riding with relative ease. Enjoy a superhero-like adventure with minimal effort!"
For traditional bike rental options, Siskiyou Cyclery is a half-mile walk from Oak Hill and offers bicycle rentals, repairs and sales.
In-Town
Click here for a map of in-town bike routes, Rogue Bike Share stations and bike shops.
Cascade Siskiyou Scenic Bikeway
The Cascade Siskiyou Scenic Bikeway starts and end just a five minute bike ride from Oak Hill B&B. This challenging 55-mile loop thru winds and climbs thru some of the most ecologically diverse and stunning scenery east of Ashland. Find more about this ride along with a map and cue sheet here >>
Mountain Biking
The Ashland area is home to a wide variety of trails, many of which are suitable for mountain biking. Check out a list of trails here for some great mountain biking options>>
Bear Creek Greenway
Starting right near Oak Hill B&B you can ride the Bear Creek Greenway for up to 26 miles. This paved multi-use path follows I-5, Hwy 99 and Bear Creek from Ashland thru Talent, Phoenix and Medford to Central Point and includes parks along the way for parking, water and restroom facilities. Look here for more information and a map of the Bear Creek Greenway >>
Upcoming Area Events
<div data-tockify-component="mini" data-tockify-calendar="stayashland"></div>
<script data-cfasync="false" data-tockify-script="embed" src="https://public.tockify.com/browser/embed.js"></script>